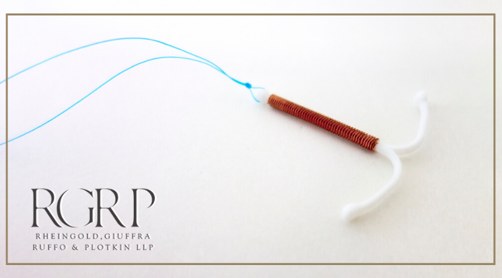 Paragard is a small IUD (intrauterine device) manufactured and marketed by Cooper Surgical. The contraceptive device is touted as 100%, safe, and efficient. It is marketed as a device that provides up to 10 years of contraceptive protection for women without any hormones. It is touted as the "only IUD FDA approved for over 30 years."
There is only one problem-the copper device can break and become lodged in the uterus. The only way to extract the broken device is surgical intervention. According to an April 2020 Drug Watch article, "Nebraska woman Stephanie Ideus was one of the people who filed a suit against Teva Pharmaceuticals, one of the manufacturers of the device, in 2016. During her Paragard IUD removal, the device broke and imbedded in her uterus, and she required surgery to have it removed, according to her complaint."
According to Drug Watch, "The current prescribing information provided by Cooper Surgical lists "device breakage" under the postmarketing adverse events section but doesn't say how often it occurs. It does warn that "breakage of an embedded Paragard during non-surgical removal has been reported."
Under the instructions for healthcare providers on how to remove the Paragard, it reads: "The threads can retract into the uterus or break, or Paragard can break, perforate the uterus, or be expelled."
In addition, it cautions healthcare providers that, "Breakage or embedment of Paragard in the myometrium can make removal difficult. Analgesia, paracervical anesthesia, cervical dilation, alligator forceps or other grasping instrument, or hysteroscopy may assist in removing an embedded Paragard."
In July 2019, the FDA sent a letter to Kyle Hooper, Regulatory Affairs Associate at CooperSurgical, Inc. concerning the company's marketing materials, specifically a television ad promoting the benefits of Paragard. In the letter, the FDA states,
"The TV ad is misleading because it includes claims and representations about the uses and benefits of ParaGard but fails to include important risk information associated with the drug. While the TV ad includes the statement as onscreen superimposed text (SUPER), "Don't use Paragard if you have certain cancers[,] " the TV ad fails to include any of the other contraindications for the product, such as acute pelvic inflammatory disease, or current behavior suggesting a high risk of pelvic inflammatory disease. Additionally, although the TV ad includes the statement as an audio voice over (VO), "If you experience pain, pelvic infection . . . call your healthcare provider," it fails to adequately communicate the material fact that ParaGard is associated with an increased risk of pelvic inflammatory disease (PID) and that PID can have serious consequences. Moreover, the TV ad omits the warning for expulsion of the product. By omitting serious risks associated with ParaGard and material facts pertaining to the risks of ParaGard, the TV ad misleadingly suggests that ParaGard is safer than has been demonstrated. Additionally, the presentation of certain risk information in the "major statement" of risks through audio and SUPERs is undermined by the simultaneous presentation of fast-paced visuals that feature choreographed dancing to instrumental background music and multiple scene changes. Specifically, many people are seen dancing through a crowded street surrounded by building fronts and street vendors and forming a pattern in the street while others hold letters that spell PARAGARD in bold blue letters. The presentation of these compelling and attention-grabbing visuals, all of which are unrelated to the risk message presented in the audio and on-screen SUPERS, in addition to the frequent scene changes and the other competing modalities such as the background music, compete for the consumers' attention. As a result, it is difficult for consumers to adequately process and comprehend the risk information, resulting in a misleading impression of the drug's risks. The TV ad is also misleading because it communicates important risk information in the visual portion of the TV ad only, i.e., as SUPERs."
The FDA letter requested a response from Cooper Surgical and demanded the company cease from promoting their product in any fashion that minimizes the risks associated with the device.
If you or a loved one have been injured and undergone surgery to remove a broken Paragard device, please contact Attorney David Rheingold immediately for a free initial consultation.